Metropole360 BuildingNetwork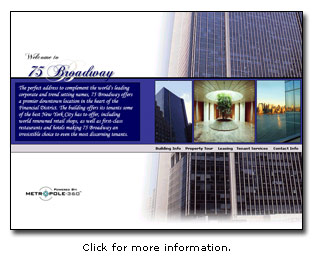 BuildingNetwork
Metropole360's BuildingNetwork is a comprehensive solution for branding and marketing real estate companies and properties. BuildingNetwork enables real estate owners to promote each building and its available space individually, through a building website, its corporate website, e-mail marketing, print materials and marketing collateral.

In the past, owners and, developers spent exorbitant sums of money and time hiring and coordinating the efforts of professional photographers, graphic designers, web developers, branding consultants, print production staff and direct mailing houses to produce an assortment of marketing materials. Metropole360 offers better, more comprehensive, and more expedient solutions at a fraction of the cost.

With BuildingNetwork, a distinct website is generated for each building, providing a 24 x 7 online marketing presence that includes information such as space availabilities, leasing and building contacts, building features, property amenities and tenant services. BuildingNetwork simultaneously enables property owners to distribute, in real-time, available listings at all their properties to a global audience via its corporate website and e-mail blasts. Prospective tenants, brokers and potential investors can search and find available listings through 360° property tours, view amenities and building services, and e-mail and print listings for future use. Moreover, BuildingNetwork's reporting tools enable ownership and brokers to track the success of their marketing efforts, determining which properties and prospects are "hot" and identifying those which require additional promotional efforts.

Owners can also use the platform for their offline marketing needs, as each branded listing is automatically formatted for use as print-quality marketing collateral. Existing tenants can access the platform to find essential information such as building handbooks, tenant directories, service requests, security information and communications, and the latest property news and events.

With Metropole's BuildingNetwork, dynamic graphical interfaces and synchronized text descriptions enable ownership to present a more compelling picture of the building and the actual available space and its unique features. For prospective tenants and their representatives, BuildingNetwork provides complete information (online, in e-mail and print) to make expeditious leasing and managerial decisions. By enhancing the communication flow between owners and their tenants, brokers and leasing prospects, Metropole's BuildingNetwork helps to shorten the leasing cycle and streamline real estate communications.